Climbing Arborist Internships Available in the United States
Arborist Climber
Atlanta/Augusta Georgia , Georgia (United States)
Full Time
Arborguard Tree Specialists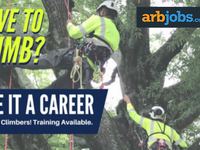 About the Company
Offices in Atlanta GA, Augusta, GA, and Charlotte NC. Providing comprehensive professional tree care to residential and commercial clients. Adhere to all safety and best practice standards.
About the job
Are you ready to increase your skill set through hands-on, professional tree climbing experience? Do you have thoughts of traveling to the United States to do so? If so, we'd love to hear from you!
We've got an Employee Development Program that will enable you to gain experience in many aspects of tree care. To potentially qualify for a one-year student visa, you'll need a Foundation Degree or higher in a related field, and either be currently enrolled in the course or recently graduated. That not you? A second qualifier is to have a minimum of 5 years documented experience in the tree care profession.
We're an industry-leading tree care company based in Avondale Estates, Georgia, in the Atlanta metro area. We specialize in things like pruning, planting, cabling, removals, plant health care, etc., and are always interested in talking with folks who know their way around a tree.
You'd be new to the United States? No problem. We have a large facility, which includes a bunkhouse where you can stay while searching for a place to rent, and free housing for the duration of the internship may be available. In addition, we offer competitive wages, paid vacation and personal days, company provided uniforms, discounts on clothing and boots, and company-owned climbing equipment dedicated to you. We're a Certified Drug Free Workplace, so be sure you'll be able to pass a pre-employment drug test. And you'll need a valid, clean driver license, too.
Check out our website at www.arborguard.com to get a better feel for us, or if you're ready to open a dialogue you can email manager Jamie Blackburn by clicking the apply button below.
Preferred Skills
Single rope (SRS) climbing technique proficiency preferred, but not required.
Knowledgeable of safe work practices, including chipper and chain saw operation.
Organized, self-motivated, hard-working, and team-oriented.
A passion for the industry and a desire to learn and grow.
Apply for this job
Apply directly to the employer by clicking the button below. Looking for jobs like this? Use our JOB ALERT system on our FREE jobseeker account.
See more Tree Surgery jobs
Arbsites Ltd makes no representations or warranties in relation to employment offered or information provided by advertiser's. It is the applicant's duty to fully investigate any company and agree terms before accepting employment.