Climbing Arborist Wanted - British Columbia, Canada
Arborist Climber
Nanaimo , British Columbia (Canada)
Full Time
About the job
Salary CAD 60,000 - CAD 100,00

RESPONSIBILITIES
Perform all required ground, climbing, and aerial lift duties in support of specific job assignments, as directed by crew leader
Demonstrate high safety standards, sound tree risk assessment skills, equipment inspection skills, proper application of approved knots, proper climbing techniques and procedures, proper pruningand tree removal skills, and proper rigging skills
Learn, understand, and adhere to all safety rules and company safety policies
Responsible for carrying out other duties as assigned by the Crew Leader or designated supervisor, Arborist Representative, or Local Manager
Qualifications:
- experience working in the Arboriculture Field
- climbing and/or crew leader experience
- bucket truck experience
Job duties consist of running chainsaw, chipping brush, completing removals, pruning, and trimming jobs from climbing and bucket truck
We are looking for people who want to advance their careers in The Arboriculture Industry who will thrive in our progressive quickly growing young company!
VI TREE offers excellent wages, benifts, advancement opportuties, training and growth within company.
Compensation based on qualifications and experience but around $28-40 per hour
VI TREE offers excellent wages, extended medical and dental company contribution pension plan with great advancement opportunities, paid training and safety equipment.
Vancouver island tree service was founded in 2014, with the help of all of our staff has become one of the largest independent tree service company's in western Canada, with over 80 employees covering 2 provinces and 2 territories if you feel up to a challenge and can put in a good days work shoot us your resume or call Troy 2506187393 and jump aboard.
---
Preferred Skills
QUALIFICATIONS
At least 1 year of climbing (DdRT or SRT) and bucket operation experience in the tree care industry
A current driver's license or Class 5, airbrakes endorsement preferred but not mandatory
certificate in Arboriculture, Forestry, Horticulture, Plant Science, Landscape Management, or a related field is preferred but not required
ISA Arborist Certification is optional
---
Benefits Offered
dental,medical ,rrsp and extended medical
---
About the Company
Vancouver Island Tree Service Ltd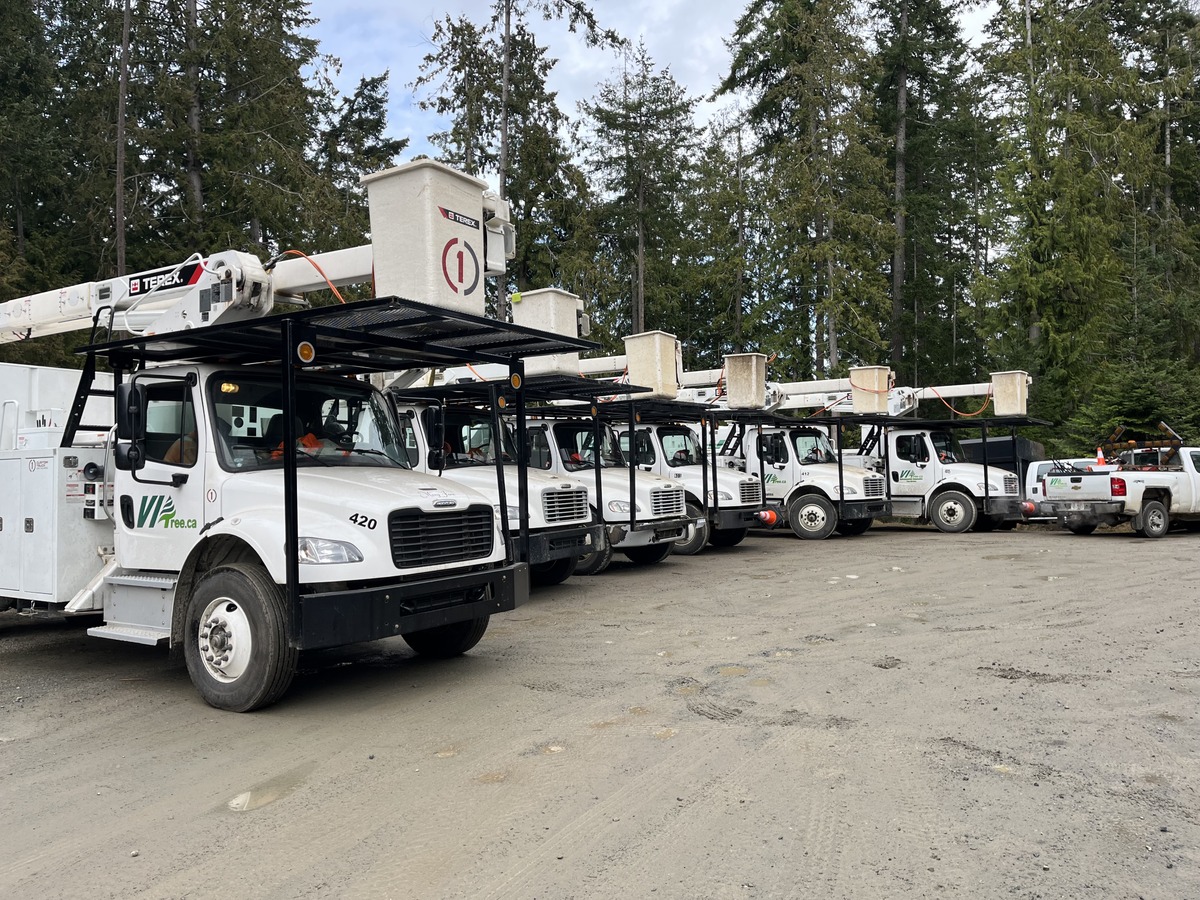 We are a company based on Vancouver Island started up by Troy Soderstrom and Martin Evans with a combined experience of over 40 years in the industry and have a team of over 80 highly skilled employees from across Canada and europe ranging from 2 years to 25 years in the industry. We specialize in Utility Vegetation Management, spurless climbing techniques, municipal and residential tree care, providing tree services for several of the islands towns, municipality's and School Districts. We run forestry bucket trucks and chip trucks all followed by 12 inch capacity wood chippers, we also run 4x4 pickups and a stump grinders. We also have ten Certified Utility Arborists on staff as well as apprentices. We run our business as an environmentally responsible company, using only bio-degradable chain oil in our saws and bio diesel in our vehicles, we use eco responsible paper in the office and do all our invoicing paperless via email. We work to ANSI A300 Standards for tree work and never use spurs when climbing trees that are to be retained. We have ISA Certified arborist's and certified tree risk assessors on staff, We promote the Industry Training Authority Arborist apprenticeship program having 2 ITA Climbing Arborist Assessors on staff and the majority of our employees signed up for the Arborist apprenticeship program. We are pre-approved contractors for BC Hydro and also a BCFSC SAFE company.
Apply For This Job
Apply to the employer directly, click the button below.
Want jobs like this? Use our JOB ALERT system via JOBSEEKER ACCOUNT.