Skilled Aerial Arborist/Machine Operator - Derbyshire
Arborist Climber
Derbyshire, East Midlands (United Kingdom)
Full Time
Thompson Tree Services (Midlands) Ltd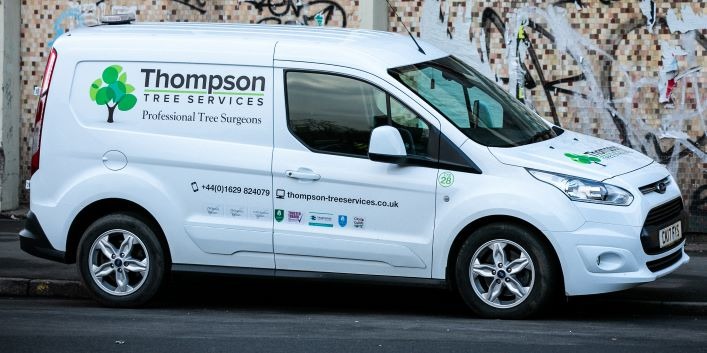 About the Company
Thompson Tree Services (Midlands) Ltd are an arboricultural contracting and consultancy company based in Wirksworth, Derbyshire.
We provide professional, high quality tree care and vegetation management services across all industry sectors (Utility, Commercial and Domestic) to customers across the Midlands, surrounding regions and Nationwide. We are a growing company and it is our vision to be recognised as the trusted and leading company in the arboricultural industry. Providing consistent, exemplary service to our customers. Attracting, developing and retaining the best arboricultural team and driving intelligent growth through innovation and investment.
It is our aim:
• To provide cost effective services of a high standard to exceed the needs of our customers
• To always protect and maintain the ecology, nature and environment of the location of our work
• To pursue excellence through continuous improvement and innovation in the way that we conduct our business
• To always form strong, lasting customer relationships, built on integrity and honesty
• To be a responsible organisation
We operate management systems that satisfy the requirements of ISO 9001: 2015, ISO 14001: 2015 and ISO 45001: 2018. Furthermore, we are accredited by the Arboricultural Association as Approved Contractors for both amenity and utility arboriculture. We are also RISQS audited for Sentinel and IMR, Achilles UDVB Registered and SafeContractor accredited
Without our staff, we don't exist and so we aim to provide the very best working environment. We employ an excellent team of qualified and experienced staff throughout all areas of the business. Each member of staff is fully trained and competent in carrying out their duties efficiently and professionally. We provide extensive training for employees to keep their skills current and advanced. We regularly invest in the renewal and expansion of our fleet, plant and equipment to provide our staff with the very best and most effective tools for their work. Teamwork is everything and so we do lots of things in and out of work, to build team spirit and make this a great place to work. As a result, staff retention rates are very high, with several staff members having been with the company since its formation.
About the job
We are looking to recruit an experienced and highly motivated Skilled Aerial Arborist/Machine Operator to join our team and expand our operational capacity, working from our head office and depot in the beautiful surroundings of Wirksworth, Derbyshire.
Mechanisation is an increasingly important development in the industry, and we are always looking for innovative ways to improve the way we carry out our work. This area of the business is growing rapidly and we need good people to (literally!) help drive it forward.
But it's not just a driving job! As we work across all industry sectors, you can expect this to be a varied, interesting, and exciting arborist role, in which you will be fully supported to develop professionally. The role will include:
• Recognising health and safety needs onsite and working safely
• Following all company policy and guidance in order to ensure the health safety and welfare of yourself, colleagues and all other persons that may be likely to be affected by the work
• Taking instruction from the Team Leader and other senior work colleagues
• Processing tree work arisings using appropriate machinery
• Taking appropriate care of tools, equipment and customer property
• Performing appropriate checks on equipment and plant in accordance with company procedures and the manufacturers recommendations e.g. pre-use visual checks, completing safety checks, and LOLER weekly checks
• Carrying out a range of ground-based pruning operations
• Felling and processing a range of small to large trees, shrubs, bushes and general undergrowth to comply with contract specification
• Supporting aerial tree workers both Mobile Elevated Work Platform (MEWP) and climbing with transfer of equipment for aerial tree work operations
• Carrying out aerial arboricultural operations safely and with appropriate regard for third party property
• Operating a range of machinery, including power tools and light plant e.g. brushwood chipper
• Preparing sites for planting, plant trees and provide support, protection and aftercare
• Following all company policy and guidance in order to ensure that work does not adversely affect the environment
• Following all company policy and guidance in order to ensure that the work is completed to an excellent standard
• Operating a range of heavy plant including a whole tree chipper, 5t excavator with rotating grab, 14t excavator and tree shear, etc
Staff welfare and well being are a priority for us and we work hard to make this a great place to work. The successful candidate can expect:
• A full time permanent contract
• A competitive salary dependant on skills, qualifications and experience
• Further training / CPD
• All PPE and equipment
• Company uniform and wet weather gear
• Annual Leave - 20 days + Bank Holidays (plus and additional day for every year of service up to 5 years)
• Pension - 3% of gross income contribution by the company
• Continual professional development
• Monthly incentive awards
• Regular staff leisure and team building outings
Preferred Skills
We expect you to work to a high standard of both safety and quality.
You will hold a minimum of CS30, CS31, CS38, CS39 and CS41 (or equivalent)
Ideally you will have a minimum of 3 years arboricultural experience;
a pre 1997 driving license or category C1+E Driving License;
Excavator training;
MEWP training;
First Aid at Work, Signing Lighting and Guarding;
PA1/PA6AW
It would be great if you had knowledge of the benefits of trees;
The use and application of a wide range of arboricultural equipment;
The principles of the establishment, growth and care of trees;
The principles and importance of identifying trees;
The principles and importance of identifying and managing pests, diseases and disorders of trees;
Current environmental, wildlife and health and safety legislation, standards and codes of practice in relation to arboricultural works;
Legislation relating to trees g. Tree Preservation Orders and Conservation Areas;
Electrical safety for working in the vicinity of power lines
This is an opportunity to develop your career in a successful, expanding and industry leading company. This job will suit someone who:
• Is passionate about their work and the company they work for
• Has a safety mind-set to protect themselves, their colleagues and others
• Works effectively within a team
• Consistently presents a professional manner both in appearance, language and behaviour
• Is reliable and trustworthy
• Communicates effectively with, colleagues, clients and others
• Demonstrates a responsible attitude to personal and company equipment and follows company procedures
If you are not this, it will not suit you and we would be happy to refer you to our competitors!
If you'd like more information about this role or to apply directly to us please use the application system below and we will get back to you right away. Thanks for your interest.
Thompson Tree Services (Midlands) Ltd. are an equal opportunities employer.
Apply for this job
Apply directly to the employer by clicking the button below. Looking for jobs like this? Use our JOB ALERT system on our FREE jobseeker account.
See more Tree Surgery jobs
Arbsites Ltd makes no representations or warranties in relation to employment offered or information provided by advertisers. It is the applicant's duty to fully investigate any company and agree terms before accepting employment.