Arborist Climber - Northampton, Milton Keynes
Arborist Climber
Northampton, East Midlands (United Kingdom)
Full Time
Ground Control Ltd.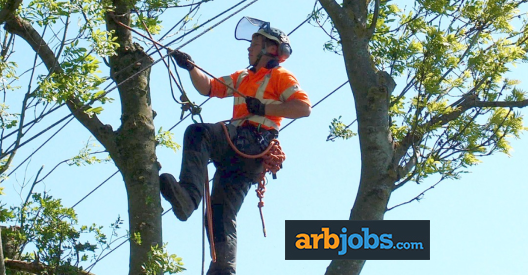 About the Company
Ground Control is an award-winning company with company growth of over 20% every year for nine years running with turnover now exceeding £90 million annually. The business has four major components: Arboriculture, Grounds Maintenance, Winter Maintenance and Landscape Construction and focuses on large regional and national contracts with multi-site operators. We currently maintain over 45,000 sites for some of the country's largest retailers, utility companies and local authorities. Ground Control was recently awarded "The Queen's Award for Enterprise: Innovation" and has also received "The UK Employee Experience Award for 2016. Ground Control is placed in the London Stock Exchange's '1000 Companies to Inspire Britain,' being labelled as "one of 1000 firms fuelling the long-term growth of the UK economy" in a list that was narrowed down from over 4.5 million companies. Along with the London Stock Exchange, 14 Daily Telegraph writers also hand-picked Ground Control as a company that "personally inspires them." Ground Control is an equal opportunities employer.
About the job
Ground Control is the UK's fastest growing external maintenance and commercial landscaping company. We were established in 1973 as a Grounds Maintenance company, becoming incorporated as a limited company in 1984.
We offer a truly national service that includes grounds maintenance, winter maintenance, tree works and vegetation management, soft and hard landscaping, ecology, design & build, pest control and fencing. Ground Control is the contractor of choice for many well-known private and public organisations - Network Rail, Tesco, Severn Trent Water, Sainsbury's, Arqiva and the Tower of London to name a few.
We have an exciting opportunity for an Arborist/Climber in the Northants and Milton Keynes area. We are offering a competitive salary and a company pension. There is scope for career progression for the right candidate.
Role and Responsibilities
The Arborist/Climber will be working in a team of 3 undertaking all aspects of arboricultural work (including felling, pruning, crown lifting, reduction and thinning). Therefore the successful candidate will need to be accomplished in rigging and complex tree work and hold excellent knowledge of tree identification and arboricultural practices. Experience and competency certificates in use of chippers and stump grinder is also essential.
The successful candidate will need to have previous experience in a similar role, be conscious of the strict health and safety environment in which they are working and be a motivated, team player, able to work under pressure and to tight deadlines.
Preferred Skills
Requirements:
The candidate will ideally have some, but not necessarily all, of the following:
•Strong academic performance in English and Mathematics
•Brushwood Chipper operations (NPTC)
•S30 – Maintain The Chainsaw
•CS31 - Fell Small Trees
•CS36 – Cross, cut & Stack procedure
•CS38 – Climb Trees & perform Aerial rescue
•CS39 – Operate the chainsaw from a rope & harness
•ASG02 - Certificate of Competence in Stump Grinding Operations
•First Aid awareness/certification
•Holds a full, valid driving license
•2-4 years experience in similar job role
•Ability to build and maintain strong working relationships
•Knows Latin plant names and their growth rates
Through our absolute focus on customer service and outstanding delivery, we are the most respected company in our chosen field. We inspire each other to be the best that we can be. Ground Control is owned by its employees and as a result, we share the responsibilities of ownership as well as its rewards. Our values are the key to or ongoing success and we are looking for passionate candidates with like-minded values of:
•Delivering outstanding customer service
•Innovation and embracing change
•Valuing each other
•Acting with integrity and honouring our commitments
•Seeking value in everything we do
•A desire to win
Apply for this job
Apply directly to the employer by clicking the button below. Looking for jobs like this? Use our JOB ALERT system on our FREE jobseeker account.
See more Tree Surgery jobs
Arbsites Ltd makes no representations or warranties in relation to employment offered or information provided by advertisers. It is the applicant's duty to fully investigate any company and agree terms before accepting employment.