Arborist Climber
Thamesmead, South East (United Kingdom)
Full Time
Peabody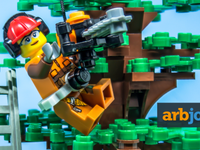 About the job
Peabody has an exciting opportunity for an Arborist to join their in-house Tree Services Team based in Thamesmead. You will join us on a full time, permanent basis and in return, you will receive a competitive salary of £26,000 per annum.
The Arborist role:
You will be able to carry out a range of tree work including planting, crown raising, reductions, pollarding, dismantling, felling and stump grinding, to a high standard and in line with industry best practice and BS3998: Tree Work Recommendations. The successful applicant will also be expected to assist in the maintenance of chainsaws, chippers and stump grinder.
The Tree Services team work mostly within Thamesmead and provide high quality, planned, ad-hoc and reactive tree work to our existing tree stock of around 30,000 trees situated within housing estates, parklands and alongside our network of canals.
Responsibilities of our Arborist include:
- Carry out tree pruning operations, including but not limited to, - lifting, thinning, crown reduction, pollarding at heights in excess of 20 meters.
- Carry out tree felling and stump removal.
- Carry out cable bracing and tree support system activities.
- Carry out tree inspections.
- Safely use of a wide variety of equipment and hand tools including but not limited to saws /pole saws/ hand tools / harness and ropes of all types. To carry out regular maintenance of all equipment and carry out minor repairs as required.
- Understand work requirements and work to deadlines.
- Maintain knowledge of arboricultural practices, legislation, relevant legislation and codes of practice, and industry guidance.
- Assist with on the job training as directed.
- Ensure prompt and accurate completion of all forms and records required for the duties of the post. To provide works data for Confirm environmental.
- Develop and maintain relationships in order to support our customers.
- Assess clients' needs to ensure effective service delivery.
- Advise and support our customers in resolving their queries and issues, ensuring that their expectations are managed and proactive resolutions are identified.
- Ensure that all policies and procedures are adhered to so that consistent and standard practice is achieved across the organisation.
- Follow Peabody Health and Safety policies and procedures to ensure, as far as is practicable, your own safety and that of others in the workplace. You may be required to undertake specific Health and Safety roles such as Fire Warden or First Aider as part of your duties.
Preferred Skills
What we're looking for in our Arborist:
Essential
- CS30,31, 38, 39
- Experience of working within a similar role.
- Full UK Driving License
- NPTC units in the range of 30 to 39 as a minimum
- Proven experience working in arboricultural service
- Proven ability to work in all weathers in an outdoor environment
Preferred
- CS41 (Aerial Tree Rigging)
- CS47 (Use of a Chainsaw from a MEWP)
- B+E Driving License (or pre-1997 UK Driving License)
Apply for this job
Apply directly to the employer by clicking the button below. Looking for jobs like this? Use our JOB ALERT system on our FREE jobseeker account.
See more Tree Surgery jobs
Arbsites Ltd makes no representations or warranties in relation to employment offered or information provided by advertisers. It is the applicant's duty to fully investigate any company and agree terms before accepting employment.