Arboriculturalist
Midlands (United Kingdom)
Full Time
£30,000 - £35,000 (GBP)
Barton Hyett Associates Ltd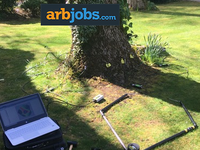 About the job
Job purpose:
BHA provides tree surveys, inspections and professional advice to those involved in development planning and the management of trees.
• To provide high-quality professional advice about amenity trees to a range of clients. This will involve undertaking surveys and assessments of trees and preparing written and verbal advice.
• To support the existing team of arboriculturists in serving the existing and expanding client base.
• To help drive forward the standards and the services provided by the company.
Key responsibilities and accountabilities:
1. Carry out on-site assessment of trees and woodlands for a variety of purposes including tree risk assessment, development planning and good arboricultural management.
2. Tree assessments will include ground-based visual inspections, aerial (climbed) inspections and detailed assessments using specialist equipment.
3. Produce high-quality written technical advice (reports) to clients for a variety of purposes.
4. Liaise with clients and other stakeholders regarding project management, preparation of reports and ongoing arboricultural advice.
5. Produce technical drawings and plans by collaborating with the supporting graphics technician.
6. Maintain clear and accurate records of all work tasks.
7. Prepare fee proposals for new work.
8. Prepare invoices for works completed.
9. Input into the ongoing development of company process and procedures.
10. Attend training and to develop relevant knowledge and skills.
Preferred Skills
Person profile - Senior Arboriculturist
Personality:
Essential: Self-driven with a positive outlook and a focus on high-quality service. A natural forward planner who can critically assess own performance and develop. Reliable, tolerant, and determined. An empathic communicator, able to see things from the other person's point of view. Able to get on with others in a team working environment. Able to manage own workload.
Desirable: Keen for new experience, responsibility and accountability. Willing to be part of a growing company with exciting project work and future opportunities.
Specific job skills:
Essential: Excellent tree identification and visual tree assessment. Experience and confidence in recording survey information on digital data-capture devices. Ability to convey complex technical information in a clear, understandable way in written reports and through conversation.
Desirable: Knowledge of the concepts of urban forestry. Expertise in tree planting and maintenance.
Experience:
Essential: At least 5 years of post-qualification (highest level) is required. Experience of undertaking surveys and writing professional reports.
Desirable: This role would suit someone that has already worked in a consultancy role and experience of working as a local authority tree officer (planning) would be advantageous. Professional memberships e.g. Professional membership of the Arboricultural Association or Institute of Chartered Foresters (or similar) would be a distinct advantage.
Qualifications:
Essential: An arboricultural qualification at, or above, the QCF level 4.
Desirable: An arboricultural qualification at, or above, the QCF level 6 is highly desirable, but exceptions may be made for outstanding candidates with an extensive and proven experience. In addition, a blend of relevant experience and professional accreditations (e.g. LANTRA Professional Tree Inspection, Quantified Tree Risk Assessment) is highly desirable.
Computer skills:
Essential: Must be fully literate in the use of MS Word and Excel.
Desirable: Ideally the candidate will also be able to use Mac computers (including Pages and Numbers). Knowledge of AutoCAD or Vectorworks would be beneficial. A knowledge of, or experience of using ArcGIS Collector would also be a benefit.
Literacy and numeracy:
Essential: Must be literate and understand mathematics. An eye for detail with regards to spelling and grammar is essential.
Commercial skills:
Essential: Experience of managing, project, meeting contract requirements and performance indicators.
Desirable: Experience of costing project work and preparing fee proposals, invoices and budget management. Ability to effectively contribute to the preparation of tenders.
Management ability:
Desirable: Although direct line management of internal staff management is not part of the role, responsibility and opportunity could grow with the development of the business. Some people-management skills and experience would be beneficial.
Personal situation:
Must have clean or near clean driving licence. Able to commute reliably to the office base. Must have a level of fitness appropriate for the requirements of the role. Able to occasionally spend one or two nights away from home as may be required by specific projects. Able to work extended hours on occasions, when required.
Apply for this job
Apply directly to the employer by clicking the button below. Looking for jobs like this? Use our JOB ALERT system on our FREE jobseeker account.
See more Technical Arb jobs
Arbsites Ltd makes no representations or warranties in relation to employment offered or information provided by advertisers. It is the applicant's duty to fully investigate any company and agree terms before accepting employment.